Motley Fool 100 ETF Results: February 2018
March 14, 2018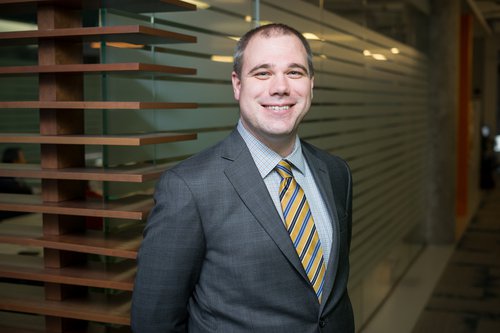 February was the first full month for the Motley Fool 100 ETF, and we're pleased with performance so far. Of course, one month is far too short a time to measure one's performance, but it's a start. We'll have standardized performance next month, after the quarter ending March 31.
Unlike the other products at Motley Fool Asset Management, the Motley Fool 100 ETF is a passive investment. Simply put, that means that as your portfolio manager, I am trying my best to have the ETF achieve similar returns to the Motley Fool 100 Index* itself. Contrast this with actively managed funds, for example, where the portfolio manager is trying very hard to beat the benchmark. However, the Motley Fool 100 Index is not exactly a typical benchmark; it was created by our sister company with the belief that a portfolio of high-quality companies with smart management teams can beat the broad market, as measured by the S&P 500, over the long run.
Of the companies in the Fool 100 Index, Twitter had the best month with a 23% return. Skyworks Solutions (+12%) and CME Group (+8%) also did quite well. On the other hand, 13 companies declined at least 10% for the month, led by Expedia (-18%), Biogen (-17%), and Comcast (-15%). But since the index is market cap-weighted, a few holdings had a much larger impact on the ETF's overall return. Apple is nearly 9% of the index, so its 6.4% return was extremely helpful against the broad market's decline. Amazon.com, making up 7% of the index, also helped with its 4.2% gain during the month. Meanwhile, Alphabet's modest 6% decline had the greatest impact, since it accounts for 7.6% of the index.

The index contains 100 companies and is rebalanced quarterly. Since the ETF is seeking to match this performance, we remained invested in the same companies during the month. One company changed its name -- Priceline Group is now Booking Holdings -- but the investments otherwise stayed the same. The index has its next rebalance at the end of March, after which the 100 companies held in the fund may be somewhat different.  You can always see the full list of holdings in the ETF, updated daily, at www.fool100etf.com/holdings.

Note: Opinions expressed are subject to change at any time, are not guaranteed and should not be considered investment advice.
*The Motley Fool 100 index is a market-cap weighted index that measures the performance of The Motley Fool's 100 largest active buy recommendations or highest-rated stocks in Fool IQ, the company's analyst opinion database. Every company included in the Index is incorporated and listed in the U.S. You cannot invest directly in an index.